The Strange Case of Emma Smith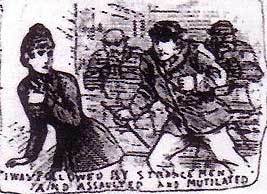 At around 9.00am on the morning of 4th April 1888, Emma Elizabeth Smith passed away in the London Hospital. There were no family members present as the life of Emma Smith was somewhat of a mystery, but no more so than the circumstances of her death. She was a resident of 18 George Street, Spitalfields, a low lodging house, and was believed to be a prostitute, one of the many who frequented the area and its doss-houses. Some accounts claimed she was a widow with two children living in Finsbury Park, then a neat suburb of London, and had once had a much better life than the one she had descended into in the mean streets of the East End. What is known for sure is that the cause of her death was peritonitis, the result of shocking injuries inflicted on her the previous day.
The previous Easter Monday, 2nd April, Smith had stuck to her regular routine, leaving her lodging house at around 6.00pm. It is believed she would work the streets and return in the early hours of the following morning, where she would often find herself the worse for wear after getting involved in drunken brawls. On this particular evening, she made her way to Poplar where the bank holiday customers in the dockside pubs would become potential clients. It turned out to be a rather fruitless and dangerous evening; Smith was seen with a man around 12.15am by fellow prostitute Margaret Hayes on Burdett Road, not long before Hayes herself was beaten by some men and decided to call it a night. The next time anybody officially saw Emma Smith was when she walked into her lodging house in great pain and distress.
As she had been making her way home, Smith claimed to have been followed from Whitechapel High Street to Brick Lane by a group of three men, who set about her near the junction with Wentworth Street. She was beaten, robbed, possibly raped and then had a blunt instrument thrust into her vagina with great force. It was several hours before she appeared in George Street, yet there were no reports of any sightings of her. Mary Russell and Annie Lee took Smith to the London Hospital where she was seen by Dr George Haslip, and there she proceeded to recount the assault. Gradually, Smith would slip into a coma, as the injury to the vagina had ruptured the perineum, causing a dangerous infection and resulting in Smith passing away early the next morning.
The East End had seen many outrages and tragedies, but this was thought of as being particularly brutal. Nobody was brought to justice over the affair, and many commentators felt this was indicative of a growing audacity and violence within the gang culture of the area. Some of these gangs were known to prey on prostitutes as they were vulnerable, and all evidence (though there was little) put the attack on Smith in this category. But it is difficult to know if Emma Smith's story is totally accurate. Some have suggested that she may have been set upon by a loner or a violent pimp and that she used the gang story to deflect attention from her role as a prostitute.
Today, the death of Emma Smith has been set in history as the first of the 'Whitechapel Murders', a much-debated series of homicides spanning three years from 1888 to 1891, a number of which have been universally thought of as being committed by the killer now known to the world as Jack the Ripper. Was this an early attack by Jack? If it was a gang, as Smith claimed, was he a member of that gang? They say that serial killers 'find their feet' method-wise, before settling into specific behavioural patterns and those who judge Emma Smith to be the first victim of the Ripper reckon he made his first inroads here. What do you think?