A Strange Interlude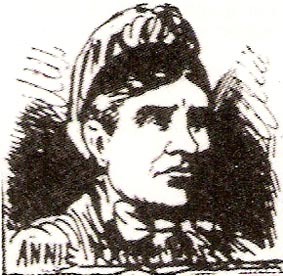 A mere 48 hours after the highly publicised funeral of Mary Jane Kelly, a story broke that the Ripper had claimed another victim. It was a bizarre case which amply demonstrated the heightened tensions and capacity for hysteria present in the East End at that time.
Annie Farmer was a 40-year-old wife of a City tradesman who, after their separation, had taken to a life on the streets, practising prostitution and living in the Flower and Dean rookery. On the morning of 21st November at about 7.30am, Farmer had picked up a 'shabby genteel' man on Commercial Street and had taken him back to Satchell's Lodging House in George Street, the same doss-house where potential Ripper victim Martha Tabram had been staying at the time of her death. The man paid 8d for a partitioned double bed on the first floor and with no questions asked by the lodging house deputy, the next hour or two went quietly by. Then, at about 9.30am, the man was seen dashing out of the house cursing, "What a ----- cow!" Witnesses loitering in the street said he had blood around his mouth, a scratch on his face and blood on his hands. He dashed off down Thrawl Street, past a number of bystanders, including two police officers who did not respond immediately, but when Annie Farmer came out of the lodging house claiming that the man had tried to cut her throat, gave chase to the man but lost him as he went into Brick Lane. From there, things began to escalate alarmingly.
Annie did indeed have a wound to the throat, but no weapon was found. Dr George Bagster Phillips was summoned and he stitched the wound before Annie was taken, on a stretcher, to Commercial Street Police Station. Such a spectacle attracted curious onlookers and before long there were visible signs of excitement in Spitalfields. That evening, the newspapers suggested another Ripper crime, claiming that another woman had been horribly mutilated, but it was soon apparent that this had not been the case and retractions were quickly made. The police were sceptical about Annie Farmer's claims from the off and their doubts were made more concrete when she was found to be hiding coins in her mouth. From this, a possible scenario presented itself. Farmer had attempted to swindle the man out of money and when he remonstrated with her, made a bid to get herself out of the situation by injuring herself (and the man) and crying attempted murder.
The police were hopeful that the man would give himself up to them in order to give his own story and clear his name, however, the wait was fruitless and the mystery man was never identified. Annie Farmer never said who he was either, despite claiming that she had known him as a customer for a year and that he often misused her. In fact, Annie Farmer never recanted her story either, and with her subsequent release from police custody, she drifted off into obscurity, her name preserved in a few sensational news reports as a possible victim of Jack the Ripper, albeit for a brief moment in time.
As an interesting side note to this little tale, one of the street witnesses, Frank Ruffell, felt that Jack may have been attempting another murder here and that it was, in his words, "his first botched job." Descriptions of the man were also believed to tally with the blotchy-faced character seen with Mary Kelly by Mary Ann Cox on the night of that particular murder. In any case, the reports on Annie Farmer's incident never made it into the Whitechapel Murders files and are now lost, suggesting this was never considered by the authorities as another attempt by the Ripper to gain another victim. Despite this, the whole bizarre incident does get column inches in various Ripper books as a good example of the public hysteria which would stay around for some time to come.