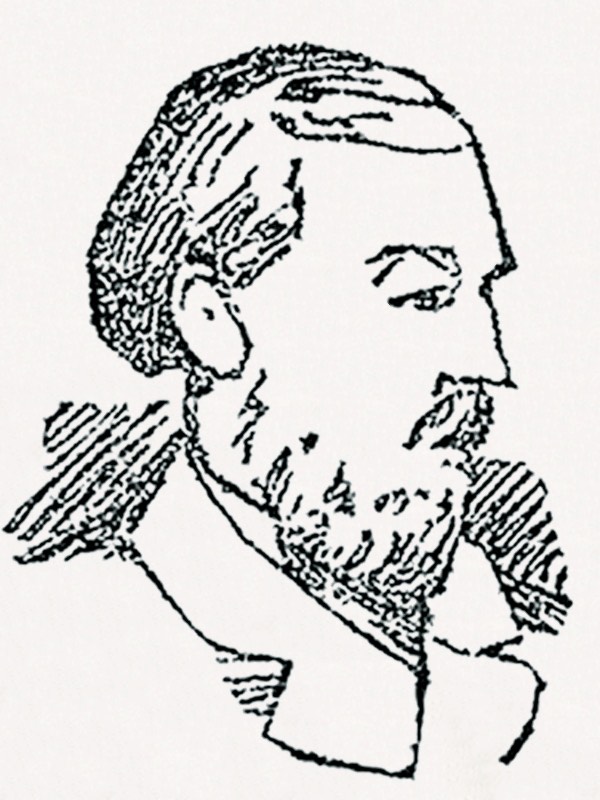 William Henry Bury was living in the East End during the time of the Whitechapel murders, yet wasn't incriminated as a potential subject until later when his future crimes would resemble those of the infamous Ripper. These murders would end up leading to William's hanging, but not before the question could be asked – what if he really was Jack the Ripper?
Who Was William Bury?
William Bury, born William Henry Bury, began his life in 1859 living somewhere in the Midlands, supposedly Stourbridge, Worcestershire. He lived a fairly troubled childhood, as many did in the 19th Century. At the age of 11, William's father died in a horse and cart accident, though his struggles only amplified as his mother was admitted to Worcester City and County Pauper Lunatic Asylum only a month later having been diagnosed with melancholia – the equivalent of clinical depression.
The cause of his mother's sadness is impossible to know, though some link it to post-natal depression or the death of William's sister, Elizabeth Ann Bury, six months prior – further affecting his mother's mental health. Regardless of the exact cause, this left William orphaned with his two other siblings, Joseph and Mary, who were taken in by their uncle, Edward Henley.
Aged 15, William was enrolled into the Blue Coat Charity School in Stourbridge and began his education, though, a year later he was working in a warehouse in Wolverhampton. He began to flick between jobs, working for a lock manufacturer and eventually as a hawker in Birmingham.
Then, in 1887, William moved to London and began selling sawdust in the district of Bow. He lived in a stable initially but eventually moved to a house where he met Ellen Elliot, a servant of his employer and likely a prostitute.
Before this meeting, William had only engaged in petty crime like theft from the workplace, though things would eventually become more sinister in the future.
What Happened in London?
William went on to marry Ellen in March 1888 after they both left James Martin, their employer, and decided to go on alone, moving into a room on Swaton Road, Bow. Only a month later, after multiple reports of Bury being a violent drunk were highlighted by their landlady, William was eventually caught threatening Ellen with a knife, kneeling on her so she could not escape. This was a sign of what was to come.
After being caught like this, the pair were evicted by their landlady. William was re-employed by James Martin and Ellen sold shares she had inherited to fund the couple moving into a new home on Spanby Road. Despite their newfound wealth, the home life of the two remained troubled. William continued to abuse Ellen throughout 1888 whilst spending her wealth until they eventually moved to Dundee, Scotland in January 1889.
What Happened in Dundee?
The couple attempted to re-establish themselves in Dundee, renting a room before eventually squatting in a basement flat. Whilst Ellen found a job to try and make ends meet, William would drink regularly and in early February, he began visiting court to observe the sessions in progress from the public gallery. A few days later, he was reported to have borrowed a newspaper from a friend which featured a woman's suicide by hanging and on that evening, he went to Dundee Central Police Station to report his wife's death – suicide by hanging.
His story was that the pair had been drinking heavily the night before and he had awoken to find her on the floor, a rope wrapped around her neck. Bury claimed that in a fit of panic, he hadn't called a doctor – instead, he had cut the body up and packed it into a suitcase; he was telling the police out of fear that they might arrest him and accuse him of being Jack the Ripper.
His claims weren't believed and upon investigation, Ellen's mutilated body was found in their flat and Bury was charged with her murder. Bury was hanged in April of that year after a 13-hour hearing.
Why Was He Suspected of Being Jack the Ripper?
There are multiple hints which suggested William Henry Bury could potentially have been Jack the Ripper. Upon investigation, the police discovered a worrying number of references to the London murderer within the William Bury case including:
-        One of Bury's drinking buddies once asked him to look up news on Jack the Ripper, to which William panicked and behaved unusually.
-        Bury specifically mentioned Jack the Ripper when he initially reported his crime to the police, though didn't mention it again.
-        Upon searching William and Ellen's flat, the police found chalk graffiti in multiple locations. On the rear door of the late it read exactly, "Jack Ripper is at the back of this door." and on the staircase, "Jack Ripper is in this seller."
-        Supposedly, upon arrival in Dundee, Ellen was said to have told neighbours that "Jack the Ripper is quiet now," and "Jack the Ripper is taking a rest," which strongly indicates she knew who the Ripper was.
Aside from these specific mentions, the nature of the murders was also similar. There were stab wounds to the abdomen and mutilation of the body, two traits which had been seen in the Canonical Five murders in Whitechapel just months prior.
Additionally, Bury was living nearby during the Whitechapel murders having stayed in nearby Bow. He was also unhappily married to a previous prostitute (or rumoured prostitute), potentially giving him a reason to target the ladies of the night which were traditionally targeted by Jack the Ripper.
So… Was It Really Him?
In truth, nobody knows if William Henry Bury really was Jack the Ripper. There's no doubt that many elements of the evidence would suggest he was but the Metropolitan Police didn't choose to investigate in-depth due to the differences. In particular, the murder itself did not feature enough of the Ripper's hallmark traits, particularly the missing preciseness from the incisions and where and when they occurred after death.
Regardless, it does appear that Bury was at least influenced by the Ripper's actions, adding another death to his legacy, whether Bury was the Ripper himself or not.
Learn About the Other Suspects Today
On the Jack the Ripper Tour, our team of expert Ripperologists discuss all of the major Jack the Ripper suspects whilst guiding you through Whitechapel and the locations where the Canonical Five murders took place.
We want to provide you with all the information so that you can decide on who the Ripper really was, whether it's one of the common theories or another that you personally believe.
Explore the gruesome history behind the world's most famous serial killer today – book your tickets and find out more.