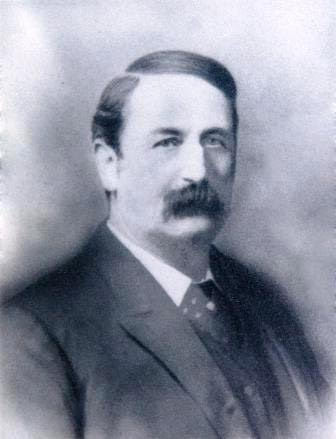 Born: 12th August 1848 at Geise Distillery near Thurso in Scotland.
Married: Julie Ann Nevil on 23rd May 1878 in West Ham, London.
Passed away: 25th November 1924 at Number 3 Presburg Road, New Malden, Surrey.
Buried: 29th November 1924 in Kingston Cemetery.
Born to John Swanson, a brewer at Geise Distillery in Scotland, and his wife, Mary, Donald grew up with a good education behind him. He first went to Robert Meilkle's Parish School before carrying on his studies at Miller Institution, where he became a teacher for a short time.
At the age of just nineteen years old, almost twenty, Donald took a huge step by travelling from Scotland and all he had known, all the way down to London. He worked for a short time as a clerk in Seething Lane before eventually becoming an officer of the Metropolitan Police.
Joining this police force, he was given the warrant number 50282 and started work for A Division on the 27th April 1868. Two years later, he was transferred to Y Division. With many promotions, he worked in K Division and was back in A Division by the 15th September 1876. He married Julie Ann Nevil in 1878 in West Ham and set up home with her and his growing family.
Donald was involved in many well-known cases such as the prevention of the Fenian attacks in London in both the 1870s and 1880s, the theft of the Gainsborough painting of the Duchess of Devonshire that was taken from a London gallery, and the recovery of Lady Alice Bective's jewellery that was worth £250,000. He was even involved in the investigation of a gang of grave robbers, who stole the body of the Earl of Crawford and then, amazingly, asked for ransom money for it.
In 1881, Donald was also involved in the investigation of Percy LeFroy Mapleton. Percy was a journalist who, on the afternoon of the 27th June 1881, joined Frederick Gold, a coin dealer in the third carriage of the express train from London Bridge to Brighton. Percy later claimed that he was attacked by two men on the train, but the police were not convinced of his story, thinking that Percy may have actually tried to commit suicide instead. Accordingly, they took him to the local hospital to have his wounds looked at. However, when his wounds appeared not to have been the reason for the amount of blood stains that were on him, suspicions were aroused.
The police organised a search of the train track and found the body of Frederick Gold in Balcombe Tunnel; he had been stabbed and shot. Percy made a run for it and a manhunt started which included the first ever wanted poster being made. Donald eventually rearrested Percy and wrote down in his notebook that Percy had told him that he was not guilty.
Jack the Ripper Case: On the 19th October 1887, Donald joined the Central Office at Scotland Yard as a Chief Inspector of the Criminal Investigation Department. On the 1st September 1888 to the 6th October 1888, Assistant Commissioner Robert Anderson placed Donald in charge of the Jack the Ripper case as a whole, giving him his own office. Due to this, he had permission to see every report on the case that had already been written.
He was telegraphed about the murder of Elizabeth Stride and worked with the City of London Police over the murder of Catherine Eddowes. In his own report, he wrote that 80,000 pamphlets to occupiers had been made as well as house-to-house searches in the area of the City, Lamb Street, Commercial Street, Great Eastern Railway, Buxton Street, Albert Street, Dunk Street, Chicksand Street, Great Garden Street and Whitechapel Road. He also wrote that the Thames Police were inspecting all the sailors aboard ships in the docks, with butchers and slaughterers being visited by police. He even mentions that the presence of the 'Greek Gipsies' had been looked into - all in a bid to catch the murderer.
Donald also appeared at the murder scene of Frances Coles and told officers to collect a sample of the blood found in the road for analysis.
In later years, Donald worked on preventing the Leander Starr Jameson's raid against the South African Republic causing a war; he also worked against the act of rent boys and blackmailing homosexual prostitutes. Donald retired from the force in 1903, with a pension of £280 a year. He passed away on the 25th November 1924 at the age of seventy-six years old, due to Arterio Sclerosis and Heart Failure Asthenia. He was buried four days later at Kingston Cemetery, in Section C, Number 4233.