The Body in Buck's Row
Buck's Row, Whitechapel, 31st August 1888, 3.40am.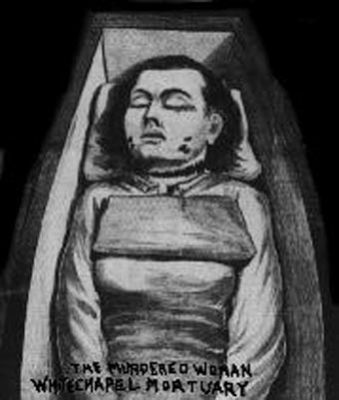 PC John Neil was patrolling the gloomy street for what must have been the umpteenth time that dreary, wet night. As he approached a stable yard next to the Board School, he noticed the body of a woman lying on her back, and looking closer with his lamp he found that the woman's throat had been cut. Noticing another policeman passing the end of the street, he signalled for assistance with his lamp and was swiftly joined by PC Thain. But unknown to PC Neil as he instigated a series of official procedures, was the fact that only a few hundred yards away on Baker's Row, two men, Charles Cross and Robert Paul, were already telling another officer, PC Mizen, about the body. A mere five minutes previously, Cross had found it and was standing beside the corpse when he was joined by Paul. Unwilling to touch the body and uncertain if the woman was dead or alive, they went off in the direction of work to hopefully alert a policeman to their discovery. And thus would begin a chain of events that would focus the world's attention on this most troubled part of London.
A more careful examination in the Whitechapel Workhouse Mortuary discovered two deep cuts to the woman's throat, one having penetrated to the spine. There were also a number of abdominal injuries, one of which had torn her open from the breastbone to the groin in a jagged manner. Further inquiries soon identified the woman as 42-year-old Mary Ann Nichols, a casual prostitute and occupant of a Thrawl Street lodging house whose marriage, which had produced five children, had been wrecked in 1880 owing to her frequent overindulgence in alcohol. Within two years she had begun working the streets and was undoubtedly doing so the night she died, having been turned away from her doss-house for not having the four pence for her bed. It was later ascertained that she may have spent that money on alcohol, having been seen leaving the Frying Pan pub on Brick Lane before she appeared in the house.
Coming hot on the heels of the shocking death of Martha Tabram, the suggestion that both were committed by the same hand was growing stronger. And whereas the official police line was to blame the actions of local gangs, some newspapers began to comment that a lone silent killer was at work, targeting the vulnerable women of the East End. 'The Star' newspaper ran the headline "The third crime of a man who must be a maniac", and spoke of "great local excitement". It would not be long before the police began to come round to the possibility that they might be right.
The police investigation into the death of Mary Ann Nichols had little to go on, for there were no witnesses and no evidence left at the scene, despite an exhaustive search. A number of individuals were detained on suspicion, and some peripheral characters offered possibly useful information about Nichols' last movements, but these inroads proved fruitless. However, less than 48 hours after the crime had been reported, the press began focusing on one particular individual as a potential suspect whose vicious habits had been recounted by several local prostitutes. They called him 'Leather Apron' owing to his habit of wearing such a garment as he stalked the streets threatening women with a knife, robbing them or even attempting to kidnap them. He was believed to be of a 'marked Hebrew type' which set him apart as a member of the large immigrant Jewish community which had been growing in the East End over the previous decade. This would prove to be a dangerous time for these immigrant settlers. There was already resentment and racism, they were blamed for undercutting job markets and taking over local neighbourhoods and as such, would go on to provide the public (and some journalists) with an easy scapegoat for the killings. 'Leather Apron,' whoever he was, proved elusive and even the police had no idea of his true identity at this early stage. And with all enquiries throwing up dead-ends, events would unfold which would create a firestorm of mayhem that nobody was prepared for.