The Double Event Part 2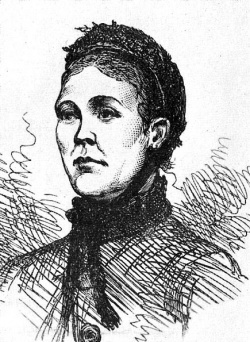 It is with great irony that Catherine Eddowes was released from Bishopsgate Police Station in the early hours of 30th September 1888, only to meet her grisly end at the hands of Jack the Ripper. Hours before, she had been arrested in Aldgate High Street for being drunk and disorderly and being found within the boundary of the City of London, her arrest fell under the remit of the City Police who usually released their drunks from the cells once they had sobered up. Had she been arrested a little over100 yards away, she would have been in Met territory, taken to Leman Street Station and kept there until morning – she would probably never have met the Ripper.
Eddowes was 46 years old at the time of her death and for seven years had been living at 55 Flower and Dean Street with John Kelly. Although from Wolverhampton, Eddowes had spent much of her life in Bermondsey and had been in a common-law marriage to one Thomas Conway, a relationship that produced four children and one grandchild. When the 'marriage' fell apart (either through Catherine's drinking or Conway's violent nature, stories differ depending on which family was doing the talking) she came to Spitalfields, although some have argued that she may not have been a prostitute as Kelly was adamant that she never earned her living in that way whilst she had been with him. Nonetheless, the last time he had seen her was the afternoon of the 29th and she was penniless. She said she was off to see her daughter to borrow some money but she never made the visit, though somehow she made enough money later that day to drink enough to earn her a stay in the police cells.
Her grossly mutilated body was found at 1.44am by PC Edward Watkins of the City Police in the darkest corner of Mitre Square, an isolated, poorly-lit enclosure lined predominantly by tall warehouses. Her throat had been cut to the spine, her abdomen was laid open and portions of her intestines were found around her body. Her face was delicately cut with various seemingly deliberate incisions and, most shockingly of all, her uterus and left kidney had been extracted and removed from the scene.
As with Chapman and Stride, Eddowes had apparently been seen prior to her death by three men at one of the entrances to Mitre Square talking to a man only about ten minutes before she was found dead. This left the Ripper little time to make his interception, commit the extensive and complicated injuries, and make his escape without being seen. The murder was quick and silent and did not disturb any of the people who were in the buildings that surrounded the Square.
The injuries inflicted on Eddowes have sometimes been used as indicators as to the Ripper's supposed anatomical skill. Unfortunately, several medical experts were involved in the post-mortem examination (Drs George Sequeira, Frederick Gordon Brown and William Sedgewick Saunders) who gave differing opinions as to the level of expertise demonstrated in the injuries. Thus, this idea of the skilled Ripper remains hotly debated to this day.
What the murder of Catherine Eddowes in Mitre Square also did was bring the City of London Police into the investigation, which for some would prove problematical. During this period, the City and Metropolitan Forces had little cross-over; some suggest that they found it hard to share information, or that the high ranking officers did not see eye to eye often. They certainly had no authority outside of their own areas, a situation that was not rectified until the Police act of 1964. And it was this separation of authority that would cause yet another controversy, this time directly linked to the Mitre Square murder, which was an issue then and still remains so today, albeit, of course, amongst Ripperologists and other historians. For the Ripper would leave a clue, the only confirmed one in the entire investigation, drawing attention to something else that would see the two forces briefly go head-to-head.